Board meetings are important for the health of every business. During those meetings board members decide the order of business, address current problems, and plan for the upcoming future. With the shift towards virtual meetings, it's important to understand the advantages and benefits they offer. According to Gitnux, virtual meetings have seen a significant increase in usage, with a 1000% rise in the number of virtual meetings in 2020. Furthermore, 80% of business executives believe that virtual meetings are just as productive, if not more so, than in-person meetings.
Now it looks like the world had enough time to assess all the pros and cons of virtual collaboration, and, probably, most of those meetings tend to be held online rather than offline. What is an online board meeting suite and what are the advantages of virtual board meetings?
What is a virtual board meeting?
A virtual board meeting is a gathering of all of the board members in a virtual setting. Board meetings can be concluded through a variety of methods, starting with virtual meeting software like Zoom, Skype, or other video conferencing tools, and finishing with online board meeting suites.
We are at this point in our technological evolution, that we cannot prohibit virtual meetings completely, and they have become a crucial part of the lifecycle of many companies. What is more, virtual meetings are slowly becoming the new normal.
Video conferencing tools might offer an alternative to a software solution, but they will never achieve that sort of board member engagement that a virtual environment enables, and facilitates the execution of follow-up tasks during regular meetings.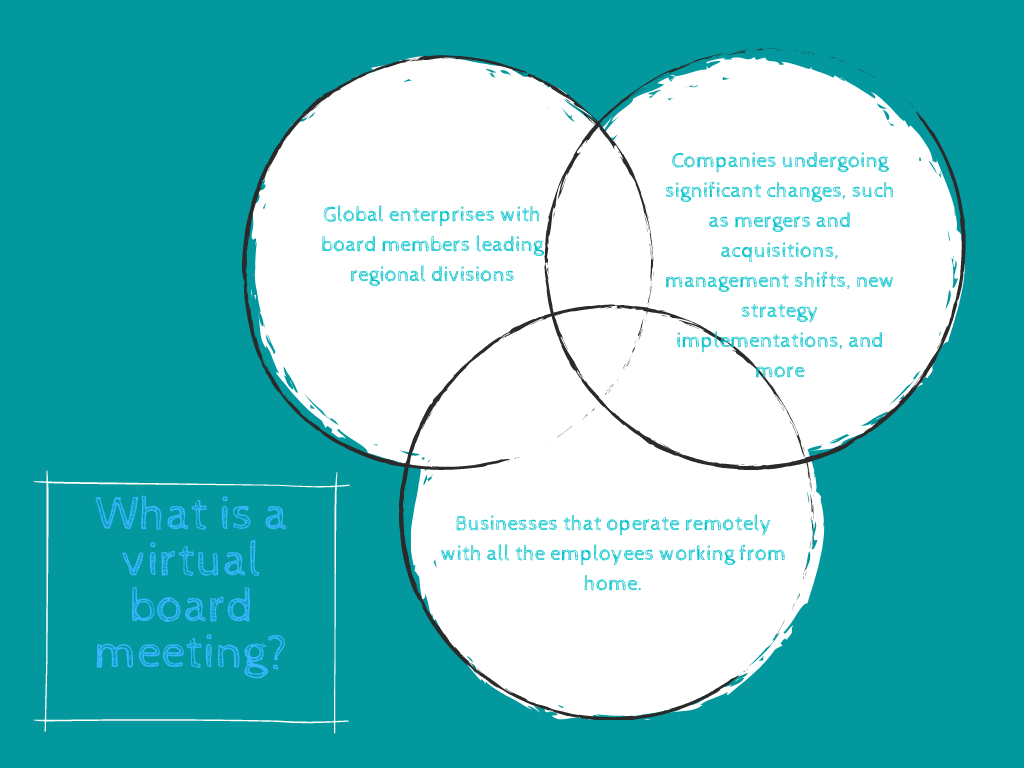 Questions related to virtual board meetings
Those remote board meetings might pose a difficulty for less technologically advanced board members of the board and this is why special software for those digital meetings has been invented.
But before we delve into the world of software solutions, we need to look at a couple of questions connected to a board meeting virtual assembly that could be involving even the mainboard chair.
What is the problem that virtual board meeting software solves for the board members?
What are the main benefits of virtual board meetings, and how is it better than a physical meeting?
What are board packs for board meetings and how can they be used through the dedicated board software?
How to conduct virtual board meetings using the specialized board software, and how to establish board governance?
Advantages of virtual board meetings
Companies would like to have all of their board meeting notes put into one space, so they can be used for reference later on. However, physical board meetings limit those possibilities, as paper can always be misplaced, and might be prone to security breaches, unlike board management tools.
Benefits of remote meetings are many, especially if they are aided by a solution that offers unique online meeting software benefits. There are three areas of focus when it comes to the pros of these virtual board rooms:
Data security
Attendance
Better organization
Accessibility
Variety
Governance
Equal opportunities
Executive participation
More flexible agendas
Improved progress tracking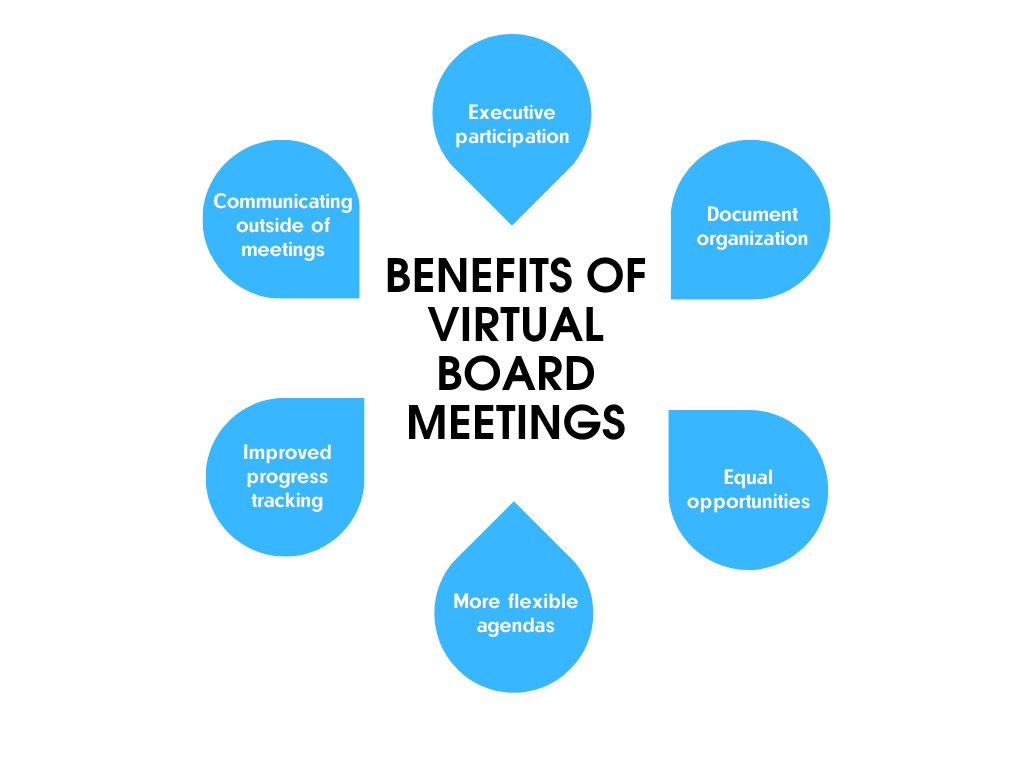 1. Data security
A digital environment is much more secure and can store all of the most important information about the plans the board members might have for the future and fix the mistakes of the past.
2. Attendance
It also amends the problems someone might have with distance to the meeting place. Nobody needs to travel from faraway places to make the meeting happen, and take care of making a travel itinerary so everyone arrives on time.
3. Better organization
Virtual board meetings reduce the stress in an already stressful event in the lifecycle of the company and contribute to a more organized workflow in the segmented view of the business both for corporate boards and nonprofit boards.
4. Accessibility
There are really no cons of virtual meetings in this area. The board members are more engaged in the meeting and are happier to show up to the board gatherings. This is due to the fact that the software itself is an interface that can almost gamify the experience of the board members while talking about the future of the company.
How does it contribute to the overall meeting? It is through this solution that people are able to notice who is attending the meeting and who isn't, because one of the benefits of virtual meetings is the ability to automatically see everyone who marked their attendance in the calendar and didn't show up. In-person meetings do not allow for this kind of control.
5. Variety
If the meeting is taking place in the virtual realm, there is no limit on the amounts of seats such virtual meetings can have, which only adds to the countless virtual meeting benefits.
What does it encourage others to do? This allows for the board meeting to have many more members than usual, hosting representatives of each of the departments and giving them the floor to voice their concerns, or ideas in front of the board, which makes the decisions for the future of the company.
This also contributes to a greater board member diversity, and the board members do not have to adhere to the limitation of space or travel.
6. Governance
Management of documents is crucial to the success of any organization. One of the most important online meeting management software benefits is its ability to organize data, so nothing escapes the participants of the meetings.
What are actionable points that board management software facilitates? While everything is discussed, a transcript can be created and put together with all of the files concerning the meeting.
Out of all the benefits of online meetings, this one helps in the categorization of data and recollection of what decisions have been made for the future of the business. The remote meeting agenda can be easily accessed, the same as meeting minutes from virtual board meetings.
As we can see, there are many benefits of virtual meetings. Having the software solution to help you conduct virtual meetings, you should be able to govern one of the best board gatherings in the history of your company.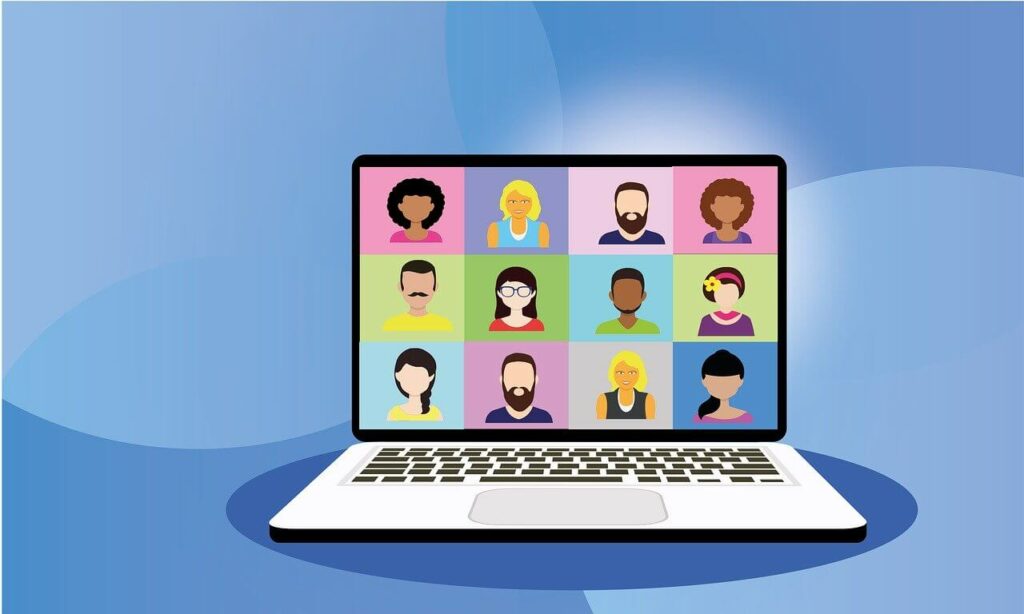 What problems could be solved via virtual board meeting software?
There are a couple of issues that could be solved without having to host virtual board meetings in a physical space. To run efficient virtual meetings certain problems need to be addressed.
Some of them we already mentioned in an earlier paragraph, but there are countless other reasons for board gatherings to be turned into virtual meetings for board of directors.
Tackling problems with the board portal
The board member can schedule the meeting within the virtual board software suite they are using – each of the board members can mark the date they would like the meeting to take place in the virtual board solution so that everyone is aligned on one date.
Board members can catch up on documents before the meeting itself happens – with the use of virtual boardrooms, all the files are available at the fingertips of the board members, which means that before the online board meeting, they will be able to remind themselves of previous agendas.
Current agendas all are stored in one place, without having to send our big copies of sensitive documents – virtual board meeting software has the ability to send out an e-mail to everyone invited to the board meeting, at the same time informing them of the current agenda set for the virtual board meeting.
A board meeting online is much more convenient, because nobody has to travel great distances, cancel other meetings, or disrupt their workflow. It can be done from their computer, without the executive team members having to travel to some obscure location.
It is easy to recollect what happened during the meeting because the virtual meeting minutes are always assembled automatically out of the topics discussed during the remote board meetings. This helps with moving in the right direction, and the board member doesn't feel lost in the secure meeting software suite during the entire meeting and after it concludes.
Those are the main problems that virtual board meetings solve, that in-person meetings couldn't. But what about their main benefits, selling points, and features that overshadow the problems than they solve, and bring additional value to the solution provider's offer?
5 ways to make your virtual board meetings better
Start slow – if the board of members is full of people that do not use this type of technology in their day to day lives, it might be a bit difficult for them to fully appreciate this solution. This is key for efficient virtual board meetings. Remember to pull up the well prepared agenda.
Use the tools within your software – knowing the ins and outs of the solution you are using might help others focus on important aspects of the meeting while adhering to board meeting etiquette.
Mute yourself when you are not speaking – while not participating, you can always mute yourself, so there is no background noise when board members presenting. Board management starts with managing yourself first, and later remote attendees.
Focus on the Agenda – do not stray away from the reason why the board has gathered during the virtual board meetings. Be sure you are all talking about the same things, and are only concerned with things within the agenda, so that you at least get a virtual meeting minutes sample during the meeting. This will help in completing a full meeting minutes document after the meeting is concluded.
Finish with an Action plan – meetings should end with a clear goal in mind and an actionable plan for the foreseeable future.
Online board meetings and templates
And while relying on templates like the virtual meeting policy template, they can also delegate their virtual board meeting organization tasks to others.
Following virtual board meetings, best practices will result in the best board gathering that could be concluded using this kind of solution.
Board management is crucial when we want to make actionable changes in the business, and explore specific strategies using the right platform to do so. Board members will express more willingness to change if they can see the change happening in the board portal. No need to say that for such typical and recurring documents as agendas, meeting minutes, board meeting resolutions, and many more, templates are an extremely helpful solution.
Conclusion
Virtual board meeting software helps in the organization of board gatherings all over the world. It helps in managing virtual board meetings with specialized tools, and safety in mind.
With all of the problems it solves, the benefits it offers, and with semi-automatic virtual board assistance, there is no reason to at least not give this solution at least a try.
FAQ
What are the benefits of virtual board meetings?
Virtual board meetings offer several benefits, including increased flexibility, cost savings, and improved board engagement. They also allow board members to participate from anywhere in the world, making it easier to coordinate schedules and collaborate on governance issues.
What are some best practices for conducting a successful virtual board meeting?
Some best practices include selecting a reliable video conferencing or teleconferencing platform, establishing clear communication protocols, and ensuring that all participants have access to necessary materials and technology. It's also important to establish guidelines for participation and ensure that all board members have equal opportunity to contribute to the discussion.