As companies continue to embrace digital transformation, paperless board meetings are becoming a more popular option for organizations worldwide. According to a survey by the National Association of Corporate Directors, 90% of board directors now use a digital platform for board materials, and 80% have fully embraced a paperless boardroom. The shift to paperless board meetings has many benefits, including cost savings, increased productivity, and a reduced environmental impact. However, transitioning to a paperless boardroom can also be challenging, with issues such as security and data protection to consider. In this article we explore the benefits and challenges of paperless board meetings and offer practical advice on how to successfully transition to a digital boardroom.
This article is a must-read for anyone looking to improve boardroom efficiency and reduce costs while staying compliant with data protection regulations.
What are paperless board meetings?
Paperless board meetings are becoming more and more common among boards of directors at various companies, both large and small. Paperless board meeting software, currently one of the most important digital tools, has changed the way businesses schedule board of directors meetings and organize important discussions.
You just need a stable internet connection and the right technology to be able to run meetings with board members from all over the world and create a good working environment in your paperless meeting solution.
Why is it worth choosing paperless board meetings?
Nowadays, in the age of the digital world, paperless meeting software comes in handy by providing the necessary tools and functionality for the seamless sharing of important information and quick collaboration between board members.
Organizations are realizing that to be ahead of the average board, they need to implement advanced solutions. And the cost of this software is affordable for most boards.
Many businesses have noticed that it's much more efficient to run board meetings using paperless board meetings software rather than having traditional meetings. It's because the software allows you to track all interactions and create agendas with all important points for discussion, so participants can prepare in advance.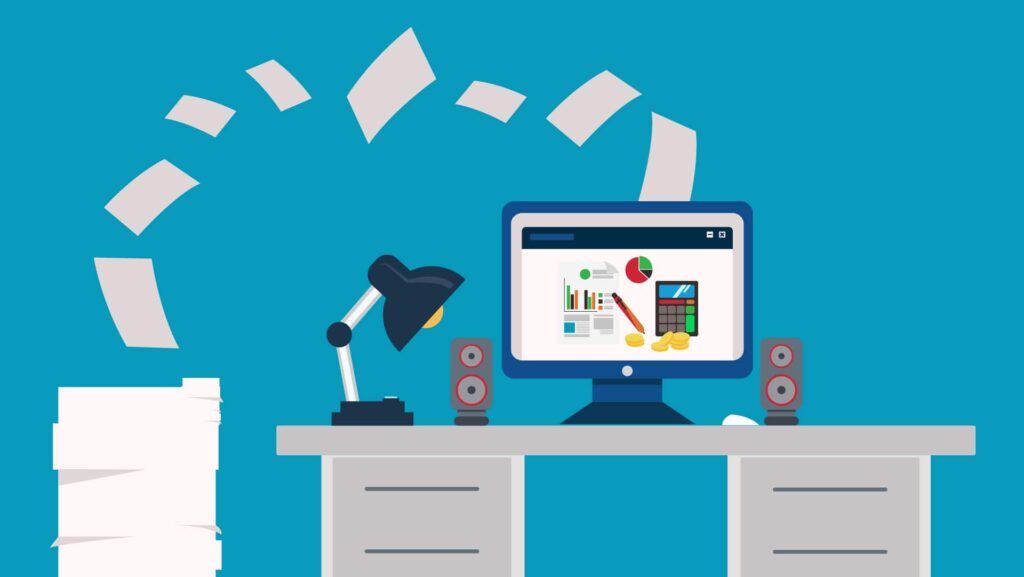 The productivity and efficiency of board meetings are drastically increased and the decision-making process is improved thanks to paperless board meetings software. The board will most likely make the right decisions during a discussion, as each agenda item is fully covered, which is a perfect foundation for well-informed decisions.
Common features of board software for paperless board meetings
Paperless meeting solutions serve as powerful business tools that streamline the board meeting process and encourage collaboration. Paperless boardroom offers many useful features, including:
agenda builder,
video integration,
meeting reports,
task and document management tools,
polls and voting,
access controls and many more.
With the meeting agenda, all board members know exactly what to discuss during the meeting and how much time is allocated to cover all agenda items. There are also many templates available to quickly create new agendas for different meetings to save time.
Users can also build agenda packets to make the scheduling process even faster. This is a very important aspect of the paperless board meeting, as it influences the efficiency and decision-making process during the meeting.
Every paperless board meeting solution has an intuitive user-friendly dashboard allowing board members to track various tasks, documents, and overall progress. This dashboard also makes it easy to track all paperless board documents, forgotten tasks and see what is needed for future meetings.
Paperless board meetings vs paper meetings: what's better?
Here is a short table of comparisons proving paperless meetings are more convenient and efficient.
| Paperless board meeting | Paper board meeting |
| --- | --- |
| Reduced impact on the environment | A lot of paper documents that require storage |
| Streamlined scheduling process | Difficult to share information |
| Time and cost-efficient | Hard to notify board members about the upcoming meeting |
| Easy to share meeting materials | Relevant documents can't be quickly accessed |
| Increased meeting attendance | Board members located in different countries can't join the meeting |
Tips for paperless board meetings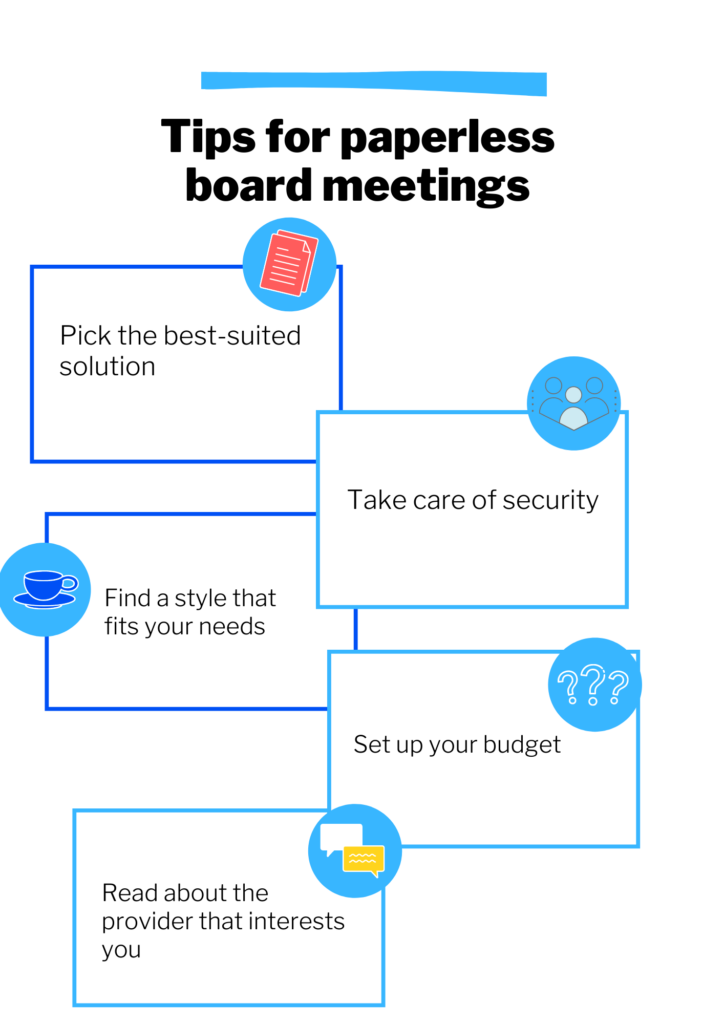 To utilize paperless meeting management software to its maximum and get the most benefit, use some of the top tips for board meetings, including:
Choose a dedicated paperless meeting management solution
Paper board meetings are not sustainable anymore. Handling these types of meetings can cost your organization a lot of money. When looking for the right solution, make sure you choose the best paperless software that suits your business needs and meets all your requirements. Check whether the provider you're committing to is reliable and secure for paperless meetings.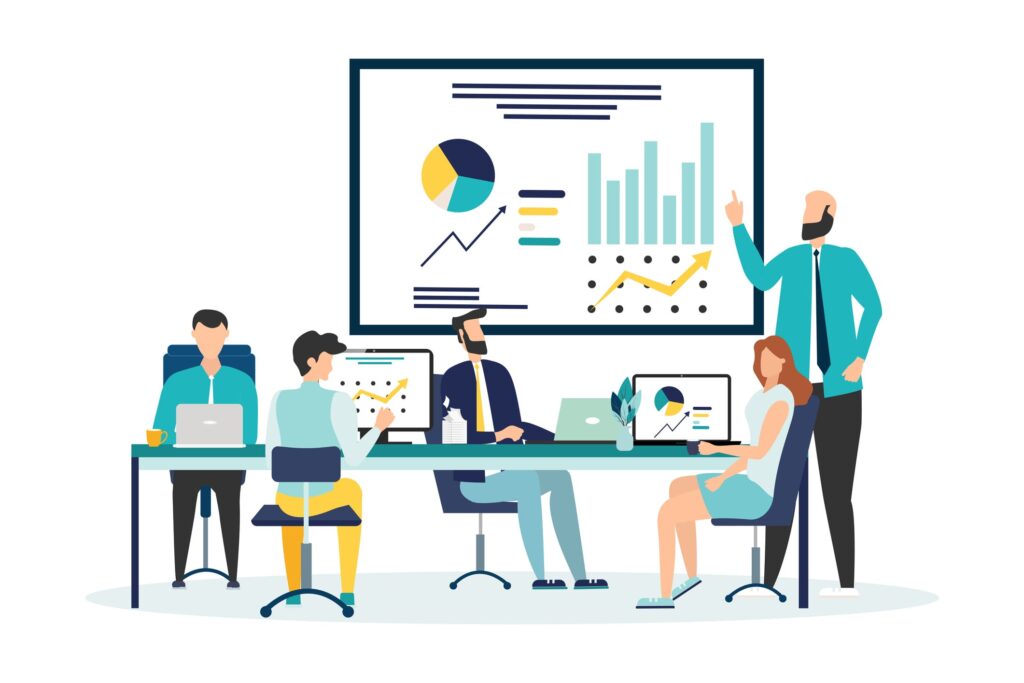 Make sure to control access to all documents
Not all board directors need to have access to all board materials available in paperless board books. Also, there can be guests or invited experts during the meetings, who need to have limited access to the company's documentation to ensure file security and prevent a data breach. Users can also set a password for certain files within your paperless meeting software.
Develop clear meeting agendas
It will make the paperless meetings run smoothly, resulting in better decision-making and general outcomes for the company. In your paperless meeting software, you can create a board packet with all needed materials and agendas to have the ability to quickly access all board information necessary for a particular task or occasion.
Encourage interaction during a board meeting
Set a requirement for all board directors or participating users to turn their cameras on. It helps to see facial expressions and reactions to certain information and encourages more interaction between board members.
Ask board members for feedback afterward
You can use polls built in your paperless meeting solution for collecting feedback from board members after meetings. It's a great opportunity to improve the overall board meeting experience.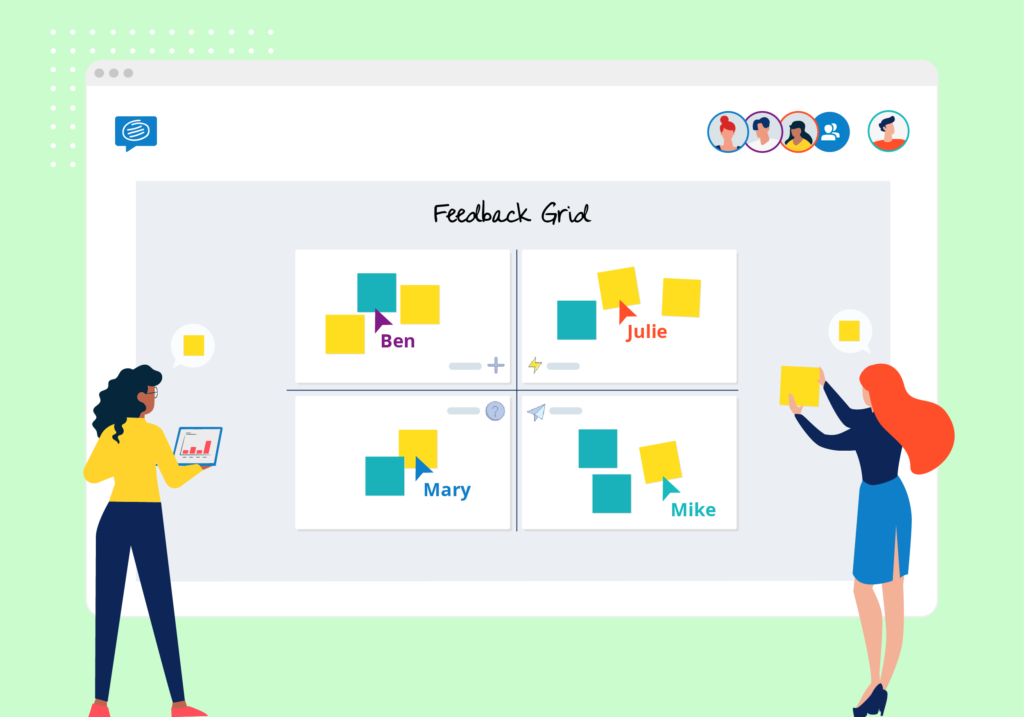 Organizations can make a quick switch to this software, as it doesn't require extensive training. Moreover, unlimited resources and tutorials about using this software make the switch quick and seamless. A paperless board software allows you to run effective paperless meetings without wasting valuable resources, such as time and money.
Conclusion
The board portal software offers ​​advanced technology, which is necessary for all businesses working in remote environments during the global pandemic. The board meeting software is even suitable for school boards and managing district staff.
When talking about traditional paper board meetings, it's clear that in today's situation requiring accelerated tools, they are not as accessible and relevant as they were a few years ago. With this software, there is no need for printing hard copies of documents for all participants for a particular discussion. A company using this type of software can save a lot of resources on print and paper.
For better board member collaboration and communication, it's worth investing in an eco-friendly paperless meeting solution that creates the right working environment. Over time, it can bring a lot of benefits to the company including more opportunities and resources many times greater than the price paid for the solution.
FAQ
Is it legal to conduct board meetings digitally and without physical documents?
Yes, in many countries, digital board meetings are legally recognized and accepted, provided that certain requirements are met. For example, in the United States, the Electronic Signatures in Global and National Commerce Act (ESIGN) and the Uniform Electronic Transactions Act (UETA) establish the legality of electronic signatures and digital records. However, it's essential to check the specific laws and regulations in your country or state before conducting paperless board meetings.
How can we ensure the security of digital boardroom documents and prevent unauthorized access?
To ensure the security of digital boardroom documents, it's important to use secure platforms and technologies. Board portal software is specifically designed for secure board communication and document management, and it often includes features such as multi-factor authentication, encryption, and access controls. Additionally, it's essential to implement strong password policies, regularly update software and firmware, and conduct employee training on cybersecurity best practices.
What tools and technologies are needed to successfully transition to a paperless boardroom, and how much does it cost?
To successfully transition to a paperless boardroom, you'll need a board portal software, hardware such as laptops or tablets, and a reliable internet connection. The cost of transitioning to a paperless boardroom can vary depending on the size of your organization and the features you require in a board portal. Some board portal software providers offer flexible pricing plans based on the number of users and the features you need. It's essential to evaluate multiple options and choose a solution that best fits your organization's needs and budget.